An - On-Premise CRM to Manage your Customer Relations - Followups, Scheduling and Mobile Sync to make an effective CRM Tool. Free US Based Telephone Tech Support! Buy risk-free with a full money-back guarantee!
On Premise CRM with Contacts, Calendar, Tasks, Notes, History, Deals and Followups
Quick and Easy Migration from any PC or Web based CRM


Use our Migration Guide to quickly move your Contacts, Calendar, Tasks, Notes, History, Categories, and Custom Fields to DejaOffice

On Premise data means DejaOffice runs faster and is far more secure than any cloud-based system. A perpetual license is a lot less expensive and frees you from ever increasing monthly payments.

We are committed to storing your data safely and securely on your PC. You own your data. You have complete control of it.
DejaOffice PC CRM Express
Average User Rating:
Average rating:
4.84
out of
5
based on
73

reviews
.
Free 14 day trial. Price $
149.95
Apps
Contacts:
Call, text, map and navigate.
Calendar:
Keeps your schedule and remind you.
Tasks and Notes:
Create, Prioritize, and Check Off tasks. Write and store notes to yourself.
Features
Colors:
Color code your schedule and lists, to easily handle your day.
Persistent Alarms:
Never miss a reminder with DejaOffice persistent alarms.
Completion:
Complete Meetings and Tasks to history stored for each Contact.
Benefits
Efficiency:
Use DejaOffice with Franklin Covey, Getting Things Done (GTD), MYOB, eProductivity, and 4 hour work week.
Templates:
Automate data entry tasks using Templats for standard Appointments, Tasks and Contacts
Local Data
Security:
your master database is on your PC in your home. Not on the Cloud
Backups:
Automatic backups on your PC and Phone.
Tasks and Notes:
Create, Prioritize, and Check Off tasks. Write and store notes to yourself.
Migration
Built-in Import:
DejaOffice will import from Outlook, Business Contact Manager, Act!, GoldMine, Zoho, Monday, Salesforce and Hubspot.
CSV File Support:
Import and export using standard CSV files.
Completion:
Complete Meetings and Tasks to history stored for each Contact.
Easy to Use
SQLite:
Based on SQLite which is an industry standard small and fast multi-user SQL server
Deployment:
The system automatically deploys on your server - even for multi-user configurations
Guaranteed
Money Back:
If you are not completely satisfied we will give you your back.
Hours:
7am-3:30pm US Pacific Time
Watch our 2 minute Video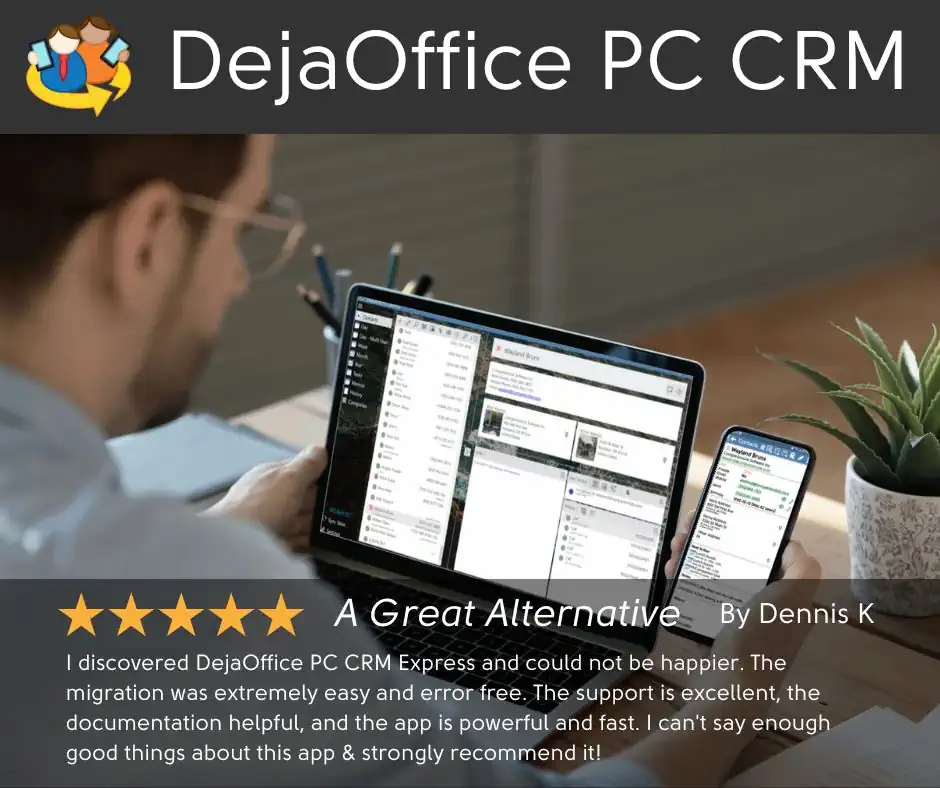 Key Features of DejaOffice
Provides a robust Customer Manager that securely stores data on your PC.
Facilitate time-stamped notes for contacts.
Access custom fields and history seamlessly.
Offers a configurable dashboard for an overview of your day.
Automate reports and lookups with database queries.
Manage deals, projects, and accounts efficiently.
Maintain an organized record of history and future actions.
Archive contact attachments for future reference.
Automatically incorporate Outlook emails into contact history.
Generate deals (opportunities) reports and visualize sales funnels.
Seamlessly import contacts, notes, activities, and histories from platforms like Echo Pro, TeleMagic, GoldMine and Act!
Why Choose DejaOffice?
Unlike browser-based CRM systems that may lag, DejaOffice allows users to swiftly pull up customer histories, write notes, and execute follow-ups. Familiarizing yourself with the DejaOffice shortcuts enables you to quickly locate customers and document interactions, without waiting for pages to load or refresh.
Whereas cloud-based CRMs might be hindered by power or internet outages, DejaOffice remains functional offline. With the proliferation of cloud solutions, the anticipated benefits of cost savings, speed, and security haven't fully materialized. In contrast, DejaOffice provides reliable customer management without the recurrent monthly costs associated with browser-based solutions.
Transitioning from another CRM to DejaOffice, termed "Migration", is facilitated by our expert technicians. With our RunStart service, priced at $69, we aim to make this transition smooth, saving you time. Most migrations are completed within an hour.
Unlike many cloud-based CRM solutions, DejaOffice offers comprehensive smartphone apps for both iPhone and Android. Your data is stored securely on your device, ensuring access even without an internet connection.
For any queries, feel free to contact us. Our dedicated team is always ready to assist you.
What DejaOffice Does Not Offer:
It doesn't serve as a replacement for your email application. Most DejaOffice users prefer email platforms like Outlook or Thunderbird.
DejaOffice isn't designed for email prospecting or pipeline management. It's primarily a contact manager for existing clients and contacts.
It doesn't integrate with accounting, receivables, or payables systems. However, the Deals module is compatible with Quotewerks, a prominent PC-based tool.
Why Express?
DejaOffice offers fast and easy PC based CRM. The Express version contains more powerful CRM features than the lower priced Standalone version.
Create Database Queries to automate your reports and lookups.
Automatic import of Outlook Emails to Contact History
Deals (Opportunities) Reports and Sales Funnel
Import Contacts, Contact Notes, Activities, and History from Act! and Goldmine
DPC Features
DPCO - Plugin for Outlook
DPCX - Express Features
DPCP - Pro Features
Click here for all of our PC CRM Guides and Features
What makes our software unique
Free US-based telephone support
Full support for Categories and colors
Supports contacts, calendar, tasks, notes
USB, WiFi, Bluetooth, DejaCloud, and Google sync
Works with Android, iPhone, iPad
Full contact notes, contact pictures, alarms
Automatic data encryption on device
Helpful Resources
Features of DejaOffice PC CRM?
Contacts, Calendar, Task and Notes
Expense, Deals (Opportunities), Followups, History
Sync to DejaOffice on Android and iPhone using USB, Wi-Fi, Bluetooth, DejaCloud
Free USA Based Telephone Technical Support
Does not require any Cloud, iCloud, or Exchange connection
90-day money back guarantee
One purchase for 3 PCs; work, home and laptop
Runs on Windows 7, 8 and 10
Q. What CRM data does DejaOffice use? – Contacts, Activities, Notes, History, Deals, Expenses
Q. How does this work with DejaOffice on my Phone. – In addition to migration, DPC has built in sync to DejaOffice on Android and iPhone. You can use Wi-Fi, USB or DejaCloud sync.
Q. Does this replace CompanionLink for me? – If you use CompanionLink Express then DPC effectively replaces the product. That is; you will not need to use CompanionLink any more. You can always go back though. This product does not remove CompanionLink settings or modify them in any way (except to turn them off).
Q. Is there an Outlook Add-In? – DPC Express contains an Outlook Add-In that allows you to launch, view, and modify your CRM Data from inside of Outlook. Using the Add-in is optional, but it will extend the features of Outlook. For instance, in Outlook 2019, with IMAP folders, Color categories are not available. DPC will allow you to set categories for calendar events, tasks and contacts. Outlook will show the colors.
Great Product and great Technical Staff.
Super service Great Product
tech support Companion standalone
Last modified: Aug 20, 2023 1:26 pm